OMG, guys, we did it! We survived finals week, an early start to winter weather, and horribly drafty dorm rooms to make it to this day — the day we traveling home from college. If you haven't been home for some time, you're probably feeling some pretty conflicting emotions. Have no fear! It's all normal, and we've found just the right words to sum it all up.
1. "YASSSSSS!"
Easily, the first feeling that pops into our mind is just how excited we are to be hitting the road. There will be old friends to hang with, mom's cooking to eat, and lots of time curled up in our own bed like old times. Just get us on the road already!
2. "The Countdown is ON!"
Right along with excitement is anticipation. We've basically planned out every day of our vacation down to the hour. But with anticipation comes a little bit of fear of the unknown. What if we get stuck at the airport and miss the tree lighting we always go to? Will our holidays totally fall apart? The wait till our leave is really the worst part of this.
3. "I Will Make This Parka Fit In My Carry-On!"
We all know this, but there's nothing like a two-week plus trip home to remind us how much traveling can really get to us. Even the most zen traveler would break down at the thought of going through a major airport during the holiday rush or hitting traffic during winter rush hours. And don't get us started on packing! Our suitcase just keeps taunting us.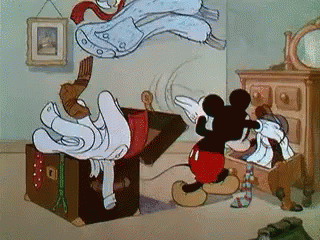 4. "No? Maybe? No?"
We occasionally complain about dorm life and we're always feeling just a little bit homesick… so then why are we feeling a bit sad about leaving our college campus behind? Maybe our college roommate has grown on us or we'll really miss the JELL-O in the cafeteria. Whatever it is, it's really making us wish we would have booked our ticket home for a later date.
5. "I'm Not Looking Forward to Stepping on the Scale"
Between all the late night coffee with our high school BFFs and our parent's cooking, we've probably packed it on. But do we have any regrets? No way! These winter break pounds are so worth all the love and joy we feel being with our family and friends again. Pass me another cookie!
6. "Wait… How Many Days Till the Next Semester?"
By the end of the first week, something has dawned on us — spring semester is just around the corner. That means we only have a few more weeks to buy our books, check our professor's ratings, solidify our class/activity schedules, and map out the routes to our new classrooms. I thought this was supposed to be a break!
7. "I'm Leaving on a Jetplane…"
It always seems to creep up on us just at the right time when we start to really miss being on campus, but it's here. It's time to go back. Our parents seem more upset about it, but that's okay. We are just looking forwards to what comes next… spring break!
The following two tabs change content below.
Katherine Carpenter
Hi I'm Katherine! I love DIY projects, especially ones that I can use to make my dorm room pop! My favorite flavor of ice cream is mint chocolate chip, especially when it's on a cone. I love hanging out with my sorority sisters and giving back to the community. Always remember to live, laugh and love!
Latest posts by Katherine Carpenter (see all)