College Freshman, Sophomore, Junior, or Senior…No matter what sorority, no matter what semester — you're officially signed up for recruitment of this upcoming school year! You have just signed yourself up for the best decision of your life.
"I know I am not going to enjoy it! Why do you want me so badly to join one?" This right here was a quote from my roommate telling me why she didn't want to go out for recruitment.  Three days later she told me "Thank you, Ariel. That was the best decision I ever made."  If you want some advice for getting into the sorority of your choice, keep on reading for some helpful tips you won't want to miss.
1. Be yourself:
Think of talking to all the sisters as if it was speed dating. Don't be nervous and just be yourself. They want to hear all about your interests, likes, dislikes and
2. The 4 B's:
Boys– Sororities are all about sisterhood – no future sister of yours needs to know your relationship status. 
Brands-  Don't mention what Michael Kors bag you have, Steve Madden shoes you want, Coach wallet or Kate Spade Phone case you just threw out in the trash.
Barack (Obama/President)- NO POLITICS! Politics is a big no! Keep your views about the president or the presidential election to yourself!
Bucks– They do not care if you have $50 in your wallet or $5 in your wallet. No talking about how big your house is back at home
3. Look Presentable:
These next few days or weeks are not the time to wear yoga pants, sweat pants or baggy shirts. You want to look your best. As people say, "dress to the best". You want to have a great first impression on all the girls! Get out those nice summer dresses, some cute wedges and show them who's boss!
4. Don't bad mouth any other sorority:
No matter how much you might love one sorority (or house) over another, do not talk bad about the other. It looks bad on your behalf and you can potentially get kicked out.
5. Act like you want to be there:
Even if you are not the biggest fan of that specific sorority, put on a happy face and act like you are interested in being there. It looks good and you are able to meet new girls. And who knows – if you go into it with a positive attitude, maybe you'll change your mind.
6. Stay hydrated:
You might not think of bringing a water bottle… but depending on how many sororities your school has, you will be most likely talking to each group of girls for 50 minutes. Bring water!!! Plastic or Swell, does not matter!
7. You will end up where you are supposed to be:
Do not stress if you don't get your number one choice! Everyone is supposed to end up where they are supposed to be. Don't freak out if you are upset you did not get one that you wanted… go into all the other houses or parties with an open mind. You never know, you might end up liking one of the other ones!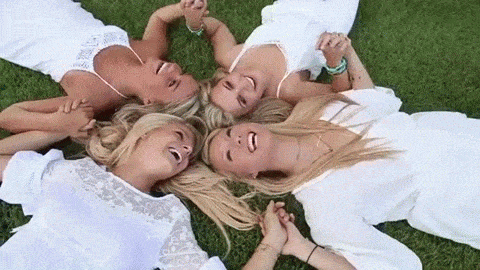 Don't forget, "Everything happens for a reason."
Have a great fall recruitment ladies and enjoy every minute!